STAN LEE'S LA COMIC-CON 2017!
SCHEDULE:
We've introduced you to Annie Blake, our 2017 Project: Superhero! recipient. Her story can be found here. We've told you that Hardly Heroes will be at our booth this year. Now, we are pleased to say that Tim Munsey will be producing his one-of-a-kind woodworking pieces of art. We will also be joined this year by Central valley artist Beth Izard and Stephen Costantino. Also, we are in the finishing stages of preparing our booth design, come by and see us in booth #1925.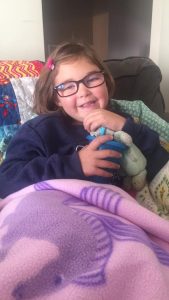 Annie of Team Annie Bananie has her own Facebook page, so you can follow her progress and story. She is a wonder of a girl who is just so happy for the opportunity to be a part of the exciting weekend up ahead. We have many surprises in store for her and her family, and can hardly contain our excitement for them.
*MEET ANNIE & HER FAMILY VARIOUS TIMES ALL WEEKEND LONG!   WE ALSO WILL BE DOING A SPECIAL "HAPPY BIRTHDAY" EVENT FOR ANNIE SUNDAY APPROXIMATELY 12:00PM!  JOIN US AS WE WISH OUR SUPERHERO A VERY HAPPY BIRTHDAY!
Speaking of Hardly, Hardly Heroes will be broadcasting live from our booth, and they plan to have a Facebook live stream. These guys have an energy and enthusiasm that is very infectious. We are hoping this is the start of a long running Marvelous Team-Up story.
*MEET THE HEROES THEMSELVES ALL WEEKEND LONG- THEY WILL BE DOING INTERVIEWS, PODCASTS, LIVE SHOOTS, GREEN SCREEN PHOTOS!
Along the line of heroes, Tim Munsey, who does superhero cut-outs busting out of comic book backgrounds will be volunteering at our booth, and showcasing his work. He is even working on a project for Stan the man, himself!
*MEET TIM AND HIS CREATIVE TALENTS LIVE IN OUR BOOTH ALL WEEKEND LONG CREATING ONE OF A KIND ARTWORKS! DON'T MISS HIS SHOW SPECIALS ON SEVERAL OF HIS PIECES AND TAKE HOME SOMETHING UNIQUE- NO TWO ARE ALIKE!
Beth Izard is a talented artist who drew a limited edition piece for California Republic Comic-Con. She will be with us on Saturday. For this event, she will be making another limited edition print for Stan Lee's LA Comic-Con, featuring Stan Lee. She will be available for signings, and her artwork will be on display.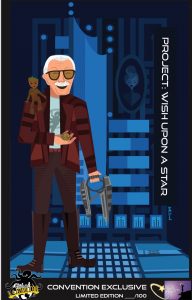 *COME MEET BETH SAT/SUN 10:00AM-5:00PM! BETH HAS CREATED A STAN LEE EXCLUSIVE (LIMITED TO 100 PRINTS ONLY!).   SHE WILL BE AUTOGRAPHING IN PERSON & RUNNING SHOW SPECIALS ON HER ILLUSTRATIONS!
Stephen Costantino, who played a Gammorean guard in Return of the Jedi, will be joining us, taking pictures and signing autographs.
*COME MEET STEPHEN SAT/SUN 12-5:00PM! HE WILL BE SHARING HIS PASSION FOR HIS MUSIC AND PROMOTING HIS LATEST CD! HE ALSO WILL BE SHARING HIS STAR WARS STORIES & ANSWERING ANY QUESTIONS YOU MAY HAVE!
And, lest we forget, PWUAS (us), are working on our booth. We're working on making a cityscape background for our booth, which we hope will help leave you all with a lasting impression of who we are, and why we're here. Looking forward to meeting as many people as we can October 27 – 29.