WARP TO STARDATE:2020
*HELP US TURN A CHILD PATIENT INTO A TREKKIE @STLV (StarTrek Las Vegas) in 2020!
STARDATE:2020 Mission of Hope, is making history.
Its always been about exploration, hope, and the possibility to explore new realms.
With your help, we will materialize this mission into reality.
*ALL PROCEEDS, DONATIONS TO PWUAS.ORG ALL FUND OUR UNIQUE "PROJECTS" FOR CHILD PATIENTS. STARDATE:2020 IS A NEW PROJECT WE CREATED TO MERGE YOUNG CHILD PATIENTS INTO THE VAST WORLD OF STAR TREK FANDOM AND TO PROVIDE OUR NEXT GENERATION NEW FRONTIERS IN OUR BELOVED TREK UNIVERSE...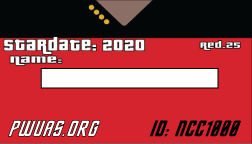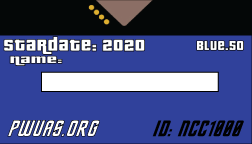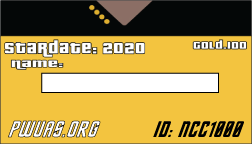 ALL PROCEEDS will benefit the STARDATE:2020 PROJECT & our TREK4ACAUSE patient programs...
Introducing our 4 membership levels:   RED, BLUE, GOLD, and ADMIRAL. 
AWARDS are as follows, however the GOLD and ADMIRAL levels will be consistently adding new items throughout 2019, and will be on a first come first serve basis so ENLIST ASAP!
*Once an individual is enlisted, they will be entitled to all future awards/gifts to be added, as we continue our journey to 2020.
RED LEVEL: Specially designed membership card complete with your unique personal ID. Your name on our 2020 T-Shirt + STARDATE:2020 site page, membership letter, patch and wristband!
BLUE LEVEL: Specially designed membership card, name on the SD:2020 shirt + actual shirt! Letter, wristband PLUS member hat...
GOLD LEVEL: Same as BLUE LEVEL + Titanium (Ti22) insignia charm with Sterling Silver .925 chain imported from Italy. *This level qualifies for added awards which we will add in the next several months... stay tuned for our transmissions!
ADMIRAL LEVEL: BLUE LEVEL benefits + Award specially designed by Tiffany's and etched with your actual name and STARDATE:2020 ID.
This being our "Enterprising" level, individual will also receive our *added awards + a unique TREK inspired gift that is specific to each of our ADMIRALS, this will be a unique and rare ONE OF... We promise to spoil our members on these levels and cannot wait to beam surprises your way!
*Added awards are available on a first come basis and may not be available if membership is purchased after January 1st, 2020. Our STARDATE:2020 shirts will be available in advance to the #STLV Star Trek Vegas Convention via mail. Be specific when Enlisting on your address info, level and size! .... LLAP