Project: Wish Upon A Star's "May the Fourth" is a Fan-Family Charity Event to bring together fans, friends and family in a unique atmosphere that only TGIFridays restaurants can give.
What it is:
We want a place in which celebrities, artists and fans can go in a family atmosphere for dinner, and later for the adults raffles, wookie calls and other fun activities. And to raise awareness on our charity & work. We have been funding and working with Ronald McDonald Charities, Camp & Children's hospitals now for 15 years. We have made historic progress and many smiles along the way, with hopes of not only hosting a child once a year at a Comic Con venue as we do with Stan Lee every year, but also to create projects in which children love. It is all part of our 'positive reinforcement' in which a child can progress through treatment at a faster rate with higher success rates as well.
Our promise & potential:
For our May the Fourth event, we offer locations as a flexible option in which our artists and celebrities can appear. We don't ask for anything, percentages or donations. We eventually would like to have a 'Special Guest' per venue/store in which we can promote, but at this time we are filling about 1 per 10 stores in which to promote. Our artists, guest celebrities can set up and bring a variety of photos or art in which to sell and autograph and can stay as long as they like. Our individual locations take sales from food and non-alcoholic beverages and donate a portion directly to our charitable goals. It is in this way we can invite many artists to show their goods and promote their business without fees. Of course, some artists we ask to donate a photo, or craft in which we include in our per location raffle.
And the 2017 winners were…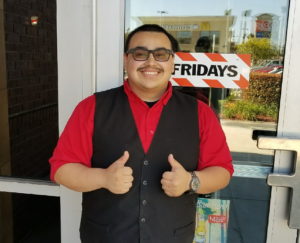 Grand Prize Winner
Alan Hernandez of Long Beach CA, Bartender @TGIFriday's Compton Location
Thanks to all who felt the FORCE, came out to participate and help raise funds for Project: Wish Upon A Star- We thank you for your support! *See you next year in MORE than 30 locations for May the Fourth 2018 @TGIFridays in a Galaxy near you!
Scheduled Guest Appearances!
Come Feel The Fourth at participating TGIFridays Locations Across the Galaxy!
ALL DAY, ALL FOR CHARITY AT A FRIDAYS NEAR YOU!
Southern California
North Long Beach
Woodland Hills
Torrance
Oxnard
Porter Ranch
Simi Valley
Compton
Westminster
Ladera
Southern California
South Gate
West Covina
Ontario
Puente Hills
Cerritos
Temecula
Rancho Cucamonga
Brea
Rosemead
Nevada
Henderson
West Sahara
Orleans Casino
Aliante Station Gold Coast
Gold Coast
Sams Town
More About The Event
We started a project a few years ago with our sponsor, the TGIFridays restaurant chain. We celebrate all and everything 'Star Wars' related in a fan & family atmosphere and proceeds are given to Project: Wish Upon A Star, a children's cancer charity and sister foundation to Camp Ronald McDonald in which we fund a child's dream via Pop Culture events and/or technology or educational venues. Our first year we had our home location here in Fresno, CA., our second year however, we were celebrating all for charity in 21 locations and now in our third year, we are moving into markets such as Arizona & Nevada.
When we started this, we thought of all the fans first, then families that attend and then it occurred to me that it is a wonderful place and opportunity for our artists and celebrities to showcase their talents. The rest is history….
Fun for the Whole Family
We make sure that this is a fan-family fun event and we carefully celebrate our fandom uniquely in which to not associate, or infringe with properties of Lucasfilm, Disney or 20th Century Fox in any way. We have done many Star Wars benefits in the past and have a contact in which we consult with at Lucasfilm to ensure proper procedures and at times they have donated and worked with us to have items donated or signed for our auctions. The 501st is welcome and appears at various locations but since this is done as a one day event and usually only for a few hours (5-?), there is not enough members to cover all of our locations.
So we welcome ALL guests, fans, cosplayers, artists and celebrities to connect with us for an "Out of the world" experience all for a great cause!